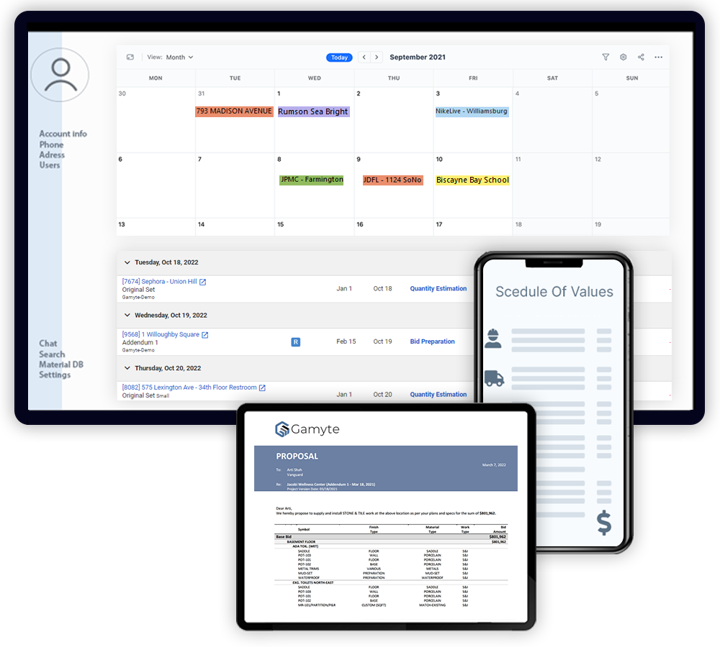 Gamyte was recently granted a major award by a leading software review site in recognition of our stellar performance as a project management software.
One of the best B2B review sites today, FinancesOnline, presented Gamyte with a Rising Star Award, in recognition of our software's commendable reputation among customers and our continuously expanding user base. Software that have achieved rapid market validation after launching are given this award. 
Among other criteria, FinancesOnline assessed Gamyte's digital presence, positive user reviews, and various channel feedback as a seal of user satisfaction. Expert reviewers from FinancesOnline also published a detailed Gamyte review and praised our AI-based initial analysis, automated tools, and systematic project management features. 

The review highlighted Gamyte's features and benefits as a pre-construction and project management software. Of all the listed features, FinancesOnline commended Gamyte's AI-Based Project Analyzer, Smart Dashboard, and One Click Preconstruction solutions. The review also discussed how the software does a complete job in handling everything from bidding, and billing, to proposals to change orders. It's truly an end-to-end AI-powered estimating and bid management solution designed for subcontractors.  
Gamyte's AI-Based Project Analyzer helps companies save time, money, and effort in managing all construction tasks. providing a fast and accurate way to analyze drawings, spot trade-relevant details, and automatically extract material information. Plus, with our one-click solutions, you can produce custom construction proposals, an AIA-style Schedule of Values, and easy submittals in no time at all.
Our clients save so much time when managing estimates, creating proposals, and analyzing bids. With Gamyte, you can revolutionize bidding and reduce all time-consuming and repetitive tasks.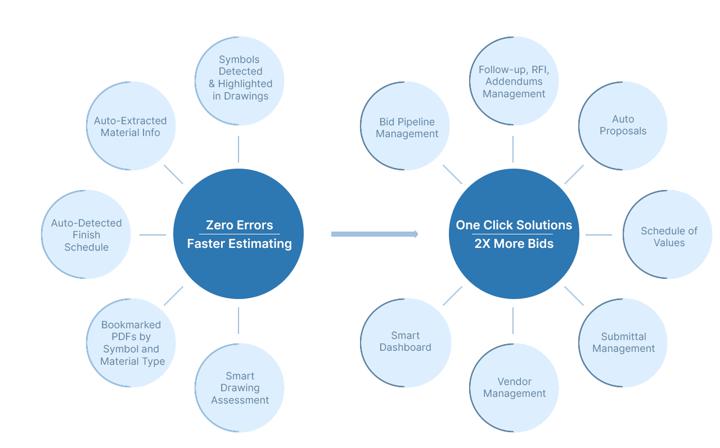 FinancesOnline also praised Gamyte's wide variety of construction-designed automated solutions that ensure each project's starting phase runs successfully. Gamyte helps you manage your bid portfolio by integrating with various bid dissemination platforms, collecting and managing bid requests in a single source, and keeping track of all due dates from your bid calendar.
Plus, our AI-enhanced tools can cut estimation time by 50%, double the number of bids sent, and eliminate double entry and rework.
Also, Gamyte seamlessly integrates with various estimating tools, enabling you to streamline your estimating and bidding process without the hassle of having to learn new tools. With Gamyte, you won't have to worry about disrupting your existing process or wasting time on a steep learning curve.
Lastly, the review also mentioned Gamyte's efficient project management system, which helps users build unique RFIs, modify and change orders, and track and send collected data. Everything is obtained via the digital platform, completely allowing you to run your procedures paperless. With Gamyte, you can now ditch all the spreadsheets and gain full control over your work. All of the features mentioned earned Gamyte a spot on FinancesOnline's elite list of top 30 software solutions with great user experience. 
Gamyte extends its sincere thanks to FinancesOnline for recognizing our hard work. The Gamyte team is inspired to continually improve our services to benefit our customers and clients.
We would also like to thank our partners and customers for believing in us and supporting us since our launch. Rest assured that we will continue working hard to provide the services you need. We're looking forward to working with you more in the future.