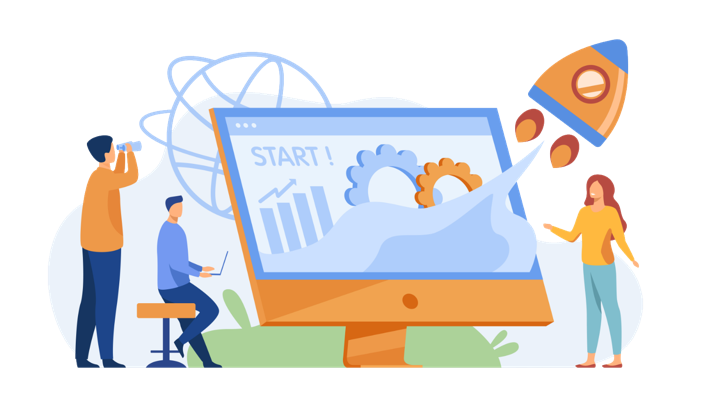 Your Estimators are one of your most valuable resources – learn the best practices from leaders across the industry to make them successful!
Construction cost estimators, who determine the costs of a construction project, play a critical role in commercial construction. Companies use the estimates of costs put together by these estimators to prepare their proposals and put together competitive bids on projects.  Attention to minute details is a key aspect of the job since it requires a detailed analysis of architectural drawings and specifications. Time management and organization is also important because often estimators are dealing with a flurry of bid requests. Errors can be very costly.
Gamyte's AI-enhanced Project Analyzer is a game changer for estimators - it catches every intricate detail on every page, and also accelerates their work. Learn more about how it works here.
Why is it important to have standardized training?
The purpose of standardizing the workflow is to avoid issues, delays in bid submission and missing information which can have a significant impact on your profit per job.
Gamyte designed the following best practices to assist companies with their estimating teams and workflows.  It is a step-by-step illustration of processes and procedures estimators must follow in order to produce successful and (hopefully profitable!) bids.
Let's dive into the steps of producing strong bids.
Step 1: Initial Analysis
Filter the trade-relevant documents
o  Drawing sets
o  Project Manuals
o  RFI Logs
o  Scope of Work
o  Additional documents such as Instructions to Bidders
Scan all documents to find the finish schedule
o  Extract the finish schedule pages from the document
o  Decide trade-related materials & highlight them
o  Save the highlighted finish schedule as a separate file
P.S. Gamyte's AI-Enhanced project Analyzer has been developed with many experienced estimators. It can perform initial analysis, find the finish schedule and highlight all trade-relevant symbols and details for you. Click here to see how it works here.
Step 2: Estimating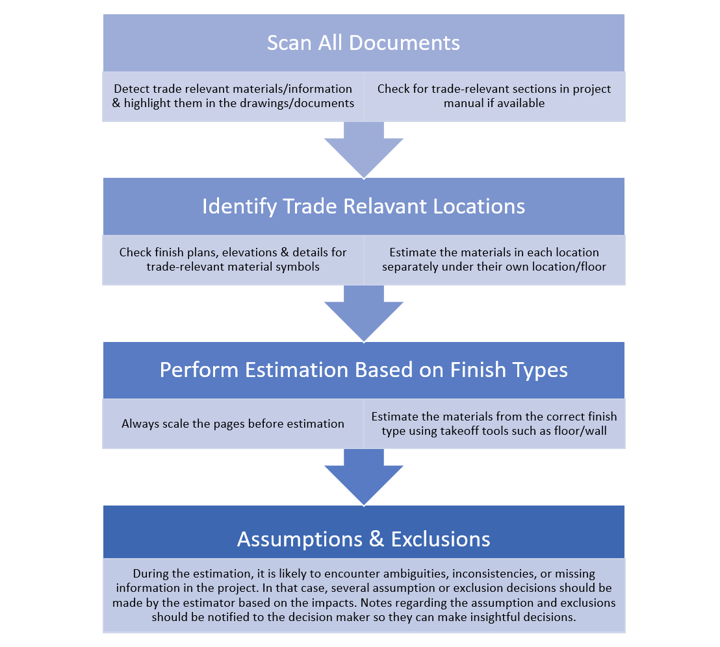 Step 3: Material Pricing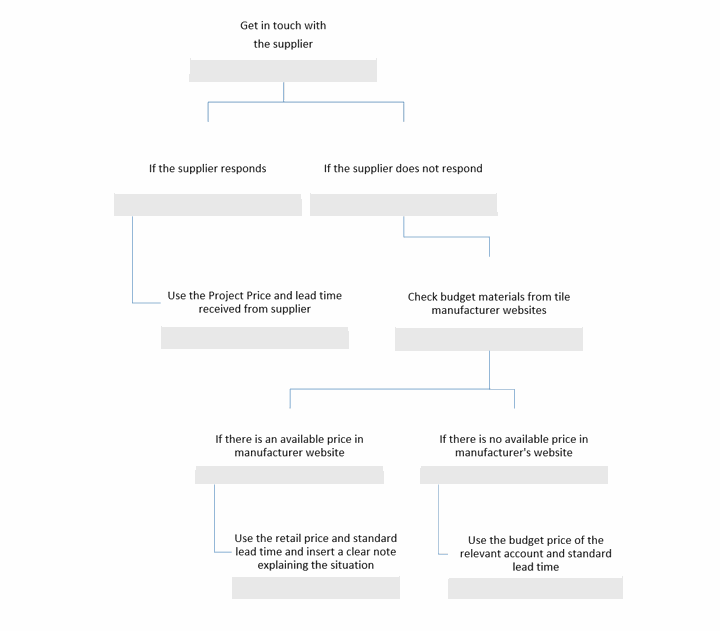 Step 4: Quality Assurance
Customer Documentation Check
Review of all Customer Documents
Project Description
Project description information
RFI Check
Has the RFI been sent?

 

Has the RFI response been understood and implemented into estimation correctly?
Estimating Tools Check
Finish schedule
Keynotes
General notes
Scales
Unit conversions (feet & inches)
Heights
Plans & Enlarged Plans
Elevations
Details
Symbols & Codes
Name of locations
Finish types
Millwork Details
Typical unit calculation
Legend Table
Pattern ratio calculation
Alternates
Material Check
Missing material information in finish schedule such as generic treatments
Note Check
Check if the notes are clear and legible
Detail page information for custom materials
Takeoff Check
Quantity check for 3 highest quantities
Quantity check in Location Based View in Takeoff for any odd quantities
Check for preparations: Waterproofing / Crack Membrane / Anti Fracture / Mud-Set / Self-Leveling / Epoxy grout / Soundproofing (note to Sila – please add preparations for other trades e.g. primer, glue etc.)
Is the pattern marked?
Work type information
You can learn more about Quality Assurance and get your copy of checklist here.
Published by Sila Keskin

Let's meet if you would like to hear more.