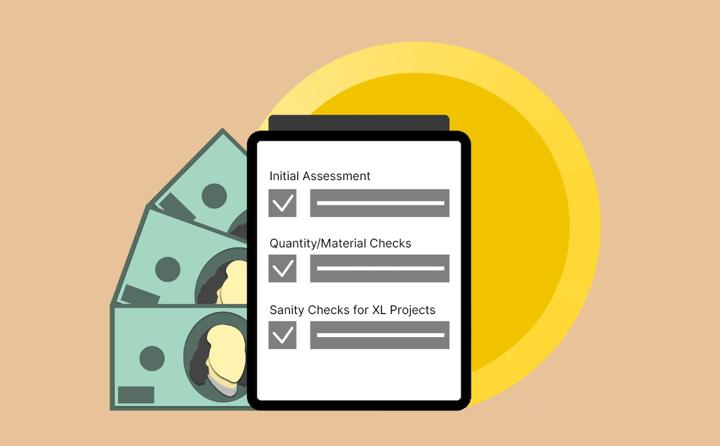 What is a Quality Assurance Process
A Quality Assurance (or QA Process) is a crucial step in construction cost estimating because it ensures that your estimating product is up to the mark. It also reduces the risk of losing money when the project is awarded to your company by minimizing any costly errors. You will be amazed by how many subs say they missed a symbol or even an entire floor sometimes and it cost them thousands of dollars!
At Gamyte, we have developed a bulletproof Quality Assurance process over the years for companies to use with their estimators.
Quality Assurance Steps in Cost Estimating
This process includes 3 stages,
Initial Assessment
In this stage, customer documentation is reviewed to find the details that can affect cost and profit.
In spec books, estimators need to check information about preparations such as waterproofing, soundproofing, epoxy grout, paddings etc. They can also find extra information about materials and installation requirements. These are important costs that you need to consider while you are preparing the bids.
In drawings, there are notes about details, materials, alternatives, options, installation types and many more. Estimators need to read them carefully to see if there is a detail missed in the takeoff.
Gamyte's AI-based Project Analyzer can significantly help your estimators, especially in initial analysis. Our automated platform is developed to catch all the details and highlight them to facilitate estimation process. Click here to learn more about it.
Cost Estimating
In this stage, estimators check measured items such as walls, floors, countertops, trims, ceilings etc. There are many digital estimating tools that you can use at this stage.
They also check the material relevant information such as material type, size, pattern, special installation requirements etc.
Estimators must be careful about, drawing scales, units, wall/base heights, keynotes, millwork details, alternative requirements and breakouts.
Double Checks for Large and Extra Large projects
Large and extra-large projects require sanity checks also. In this stage, estimators should review the highest 3 to 5 items to make sure there are no errors in the calculation of the most expensive items in the bid.
This 3-stage process allows you to review the project with 3 different levels of detail. Thus, the quality of the end product is guaranteed.
Benefits of the Quality Assurance Process
A satisfied GC means more work and more income for your company. A good QA Process reduces any possible issues after bid submission. As a result, it helps you to build strong relationships, as well as a strong reputation with your client.
Additionally, it minimizes mistakes and omissions which can be very costly to you.
Quality Assurance Checklist
Standardization in cost estimating process is quite helpful for your business to produce high-quality estimations and bids repeatedly. Quality Assurance is a crucial process for this standardization.
You can find your copy of QA Checklist below. With this checklist, you can create mistake-free takeoffs and achieve the quality that you need to win more bids.
Download Your Quality Control Checklist Here
Published by Sila Keskin