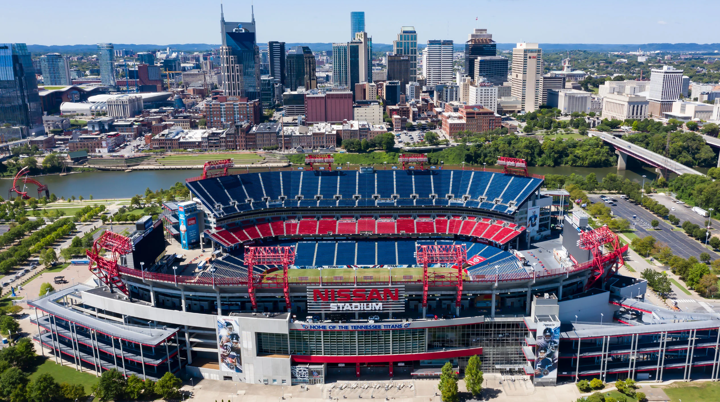 Image source: https://www.tennesseetitans.com/stadium/gameday/
Brief Story
Nashville is on its way to getting a brand new major league sports venue! After about two years of negotiation, the NFL's Tennessee Titans have finally reached an agreement with Nashville Mayor John Cooper to build a new domed stadium directly next to the location of their existing downtown arena, Nissan Stadium.
As part of the proposal, the Metro Council would regain control of 66 acres of land - including where Nissan Stadium currently sits. This means that parking lots could be turned into parks, greenways, affordable housing and new local businesses - according to the mayor's office.
We're so excited for this incredible new development in Nashville and can't wait to see what the future holds for our city!
What is more
Cooper's office and the Metro Council hired Brentwood, Tennessee-based facility management firm Venue Solutions Group to independently research and assess the state of Nissan Stadium. VSG concluded that maintaining the venue cost up to $1.95 billion over the next 17 years.
Per the new agreement, the Titans and NFL would provide $840 million and the state $500 million. The team agreed to waive $32 million in outstanding construction and maintenance bills owed by the city, and pay off the remaining $30 million in bonds owed on Nissan Stadium.
This new arrangement will help keep Nissan Stadium in good shape for years to come, and ensure that it remains a valuable asset for both the Titans and the city of Nashville.
The future stadium, which is scheduled to be completed by 2026, would include a locker room facility for the Tennessee State University football team, which would play some of its regular season at the stadium each year. The mayor's office said the project will prioritize local businesses, goods and labor, and that the Titans will pay for any cost overruns. A general contractor has not yet been announced for the project.
Source: https://www.constructiondive.com/